Ms. Anne Neuberger
Director, NSA/CSS Commercial Solutions Center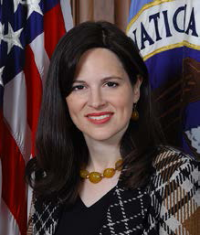 Ms. Anne Neuberger serves as the Director, NSA/CSS Commercial Solutions Center (NCSC) – NSA/CSS interface with commercial industry. The Center was created in 2005 to leverage commercial relationships and to work with foreign, Intelligence Community, and Department of Defense (DoD) partners to address the strategic and sensitive needs of NSA/CSS and the national security community.
Prior to her assignment as Director, NCSC, Anne served as Special Assistant to the Director, NSA, for the Enduring Security Framework (ESF). In that capacity, Anne built a deep and effective partnership between ESF public and private members on initiatives across a broad set of technical and policy areas. In this capacity, Anne also led the DoD's Defense Industrial Base Pilot, defining the first policy and legal framework for government sharing of classified signatures and indicators with Internet Service Providers. The Pilot's framework was adopted as the basis for the Enhanced Cybersecurity Services Program outlined in the Executive Order on Improving Critical Infrastructure Cyber Security in February 2013.
Prior to ESF, Anne served on the U.S. Cyber Command Implementation Team which led the planning and standup of USCYBERCOM.
Prior to joining NSA, Anne served as the Navy's Deputy Chief Management Officer and a Special Advisor to the Secretary of the Navy, with responsibility for guiding Navy enterprise IT programs.
Anne first joined government service in 2007 as a White House Fellow, working for Secretary of Defense Robert Gates. The nonpartisan White House Fellows Program was founded in 1964 and is one of America's most prestigious programs for leadership and public service.
Prior to joining government service, Anne was Senior Vice President of Operations at American Stock Transfer & Trust Company (AST) where she was responsible for directing operations, including dividend distributions, proxy tabulations and complex mergers, and acquisitions processing for approximately 2,000 publicly traded companies. Anne joined AST in 1994 as a software programmer, was promoted to the position of Chief Information Officer (CIO) in 2003, and Senior VP of Operations in 2005. As CIO, she led a team that designed and implemented systems to automate the granting and exercising of stock options as well as online share purchases and sales. As Senior VP of Operations, she managed the acquisition and integration of the corporate trust operations of Wachovia Bank, NA.
Anne earned a MBA, Beta Gamma Sigma and a Masters of International Affairs from Columbia University. She graduated from Touro College, summa cum laude, where she was awarded the Hannah Lander Award for Academic Excellence and a Merit Scholarship.