Alicia Squires
CISSP, Product Certification Engineer, Cisco Chair, CCUF Management Group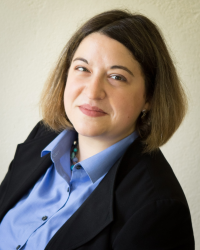 Alicia Squires joined Cisco's Global Certifications team in 2007 as a Product Certification Engineer responsible for Common Criteria evaluations of many Cisco products, including the line of Catalyst Switches and Integrated Services Routers.
Alicia also advocates for Common Criteria as the current chair of Management Group for the Common Criteria Users Forum (CCUF), which was formed from the merging of the Common Criteria Vendors Forum (CCVF) and Common Criteria Forum (CC Forum) in 2012.
Before joining Cisco, Alicia was a senior evaluator at the Arca Common Criteria Testing Laboratory, one of the accredited labs under National Information Assurance Partnership/ Common Criteria Evaluation Scheme (NIAP/CCEVS) in the US. At the lab Alicia was responsible for evaluating vendors' products, including various firewalls, intrusion detection systems, routers, switches, and management applications.
Alicia's areas of expertise include Common Criteria, FIPS 140-2, evaluation policies, US & international certification requirements, and networking. She holds a Bachelors in Science Degree from Old Dominion University.