Debora A. Plunkett
Information Assurance Director, National Security Agency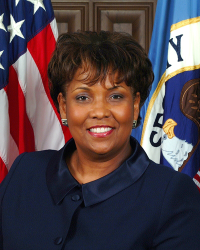 Debora A. Plunkett currently serves as Director of the Information Assurance Directorate (IAD) at the National Security Agency, where she leads efforts to protect and defend United States (U.S.) national security systems. In this role, she is the focal point for cyber security, cryptography, and information systems security for our nation's critical systems. With over 28 years of U.S. government service, she has held leadership positions in both the signals intelligence and information assurance missions at NSA. In addition, she served as a Director on the National Security Council at the White House for the Administrations of both President Clinton and President George W. Bush, where she helped shape national policy and programs in support of critical infrastructure protection and cyber security.
Ms. Plunkett earned a Bachelor of Science degree from Towson University and a Masters in Business Administration from Johns Hopkins University. She is a graduate of the National War College where she was awarded a Master of Science in National Security Strategy. She also completed the ODNI Intelligence Fellows Program.
Ms. Plunkett has received numerous awards and recognition, to include the rank of Meritorious Executive in the Senior Cryptologic Executive Service which was awarded by President George W. Bush.
A native of Baltimore, Maryland, Ms. Plunkett enjoys serving in her church and spending time with her family. She is an avid sports fan and an accomplished genealogist.