Mark S. Loepker
Director, NSA/CSS Commercial Solutions Center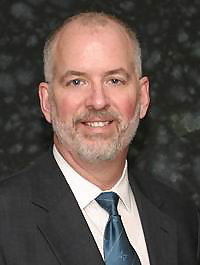 Mark S. Loepker is the Director, National Information Assurance Partnership (NIAP) established between the National Institute of Standards and Technology (NIST) and the National Security Agency (NSA) to evaluate IT product conformance to international standards. The program, officially known as the NIAP Common Criteria Evaluation and Validation Scheme for IT Security (CCEVS) is a partnership between the public and private sectors. This program is being implemented to help consumers select commercial off-the-shelf information technology (IT) products that meet their security requirements and to help manufacturers of those products gain acceptance in the global marketplace.
In past National Security Agency (NSA) assignments, Mark was the Director, Defense-wide Information Assurance Program (DIAP), Deputy Chief Information Officer for Cybersecurity, Department of Defense Chief Information Officer. He also served as the Committee on National Security Systems (CNSS), Secretariat Manager. Mark was the Chief, NSA/CSS Pacific (NCPAC), Information Assurance (IA) Division where he was NSA's Senior IA Representative for the Pacific Theater. Mark was the Technical Director, NATO & CNSS, IAD Operations Group, Foreign Affairs Directorate (FAD) responsible for all foreign affairs technical matters affecting IA support to NATO and the CNSS. Mark led the genesis of SECRET and Below Interoperability (SABI) project; the Global Command and Control System (GCCS) Risk Assessment called TrueGRiTT; and the CNSS Certification & Accreditation Working Group publishing the first Federal level C&A process. Mark served for six years as the NATO INFOSEC Subcommittee National Co-Chairman and three years as the CNSS Subcommittee Co-Chairman.
Mark attended Purdue University receiving his commission through AFROTC in 1977. Lt Col (Ret.) Loepker began his military career at Whiteman AFB, MO serving as a Minuteman Missile Combat Crew Officer. He last served with the Command, Control, Communications and Computer Systems Directorate (ECJ6), United States European Command (USEUCOM), Stuttgart, Germany as Chief, Information Systems Security Division responsible for all European theater policy and policy enforcement concerning information warfare and communications and computer security. Mr. Loepker retired from the Air Force and accepted his NSA position on 10 October 1999.